Hello. It's raining and it makes me unpleasant.
I went to Okonomiyaki restaurant with Negi this Monday.
Do you know Okonomiyaki?
Okonomiyaki is Japanese food. The word "Okonomi" means "As you like".
You can enjoy topping like rice cake,cheese,sauce,mayonnaise and so on.
This is responsible for its name.
Okonomiyaki has two flavor "Kansai-style" or "Hiroshima-style".
Both of them basically consist of wheat flour and cabbage.
Difference between "Kansai-style" and "Hiroshima-style" is whether mix or layer.
Kansai-style Okonomiyaki.
Mix flour,cabbage and other ingredients and bake.

This is Kansai-styale Okonomiyaki. (I hate my painting ability!)
On the other hand,Hiroshima-style Okonomiyaki.
Layer material which baked and made round flour, cabbage, noodles(Mostly Chinese noodle or Udon.) and other ingredient.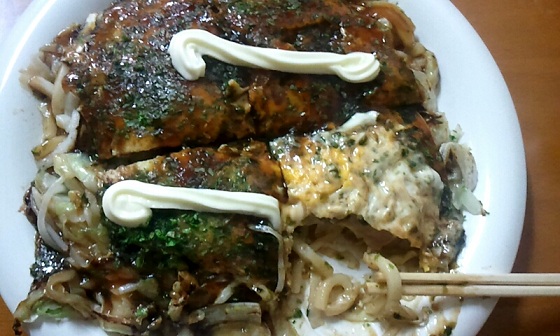 I ate half size one because normal size Hiroshima-style Okonomiyaki is too big for me.
When my first-time Hiroshima-style, I got carried away and ordered twice size.
I kick myself.
You should be careful when you order Hiroshima-style Okonomiyaki.
When I was in my hometown,I had never eaten Hiroshima-style Okonomiyaki.
I thought Okonomiyaki is only one style,"Kansai-style".
I think Kansai-style is known more than Hiroshima-style.
Which one do you like or want to eat?
スポンサーサイト